COLUMBUS, Ohio (WSYX) — Student-athletes have been taking advantage of the name, image, and likeness policy since the summer of 2021. Fans have commonly seen the players signing brand deals or partnering up with major companies to promote their product.
However, one Ohio State student-athlete is using NIL to give back to the community.
Emma Goldean is a senior on the Ohio State field hockey team. The midfielder has scored 3 goals this season helping the Buckeyes to an 8-6 record. But when Goldean is not helping her team win on the pitch, she's assisting those in need.
She teamed up with the non-profit Samaritan's Feet to help provide shoes to children in need.
"You think you're going to bless children and change lives but you leave here in your life is changed and you feel so blessed and your cup Is just so full it runs over just with the joy from these kids," Kathy Slyder, the Regional Development and Sports Initiative Manager for Samaritan's Feet, said. "And what she's doing is amazing."
The organization has served 9.1 million people, according to Slyder. The non-profit is currently in its 20th year of operation with the goal of hitting 10 million mark in 2023.
Slyder said the non-profit has an "inverse" relationship with NIL. The student-athletes use their personal brands to help raise funds for Samaritan's Feet, while also donating their time to help distribute the shoes.
"Her [Emma] time is so precious, yet she's in season and spending an entire morning with these children," Slyder said. "You just don't find very many people like that and I hope that's the role model that we're putting in front of people for our youth today because we want her to be tomorrow's leader."
Goldean is one of five NIL athletes for Samaritan's Feet. On Monday, she spent her morning distributing 600 pairs of sneakers to kids ages 4-14 at Stiles Elementary.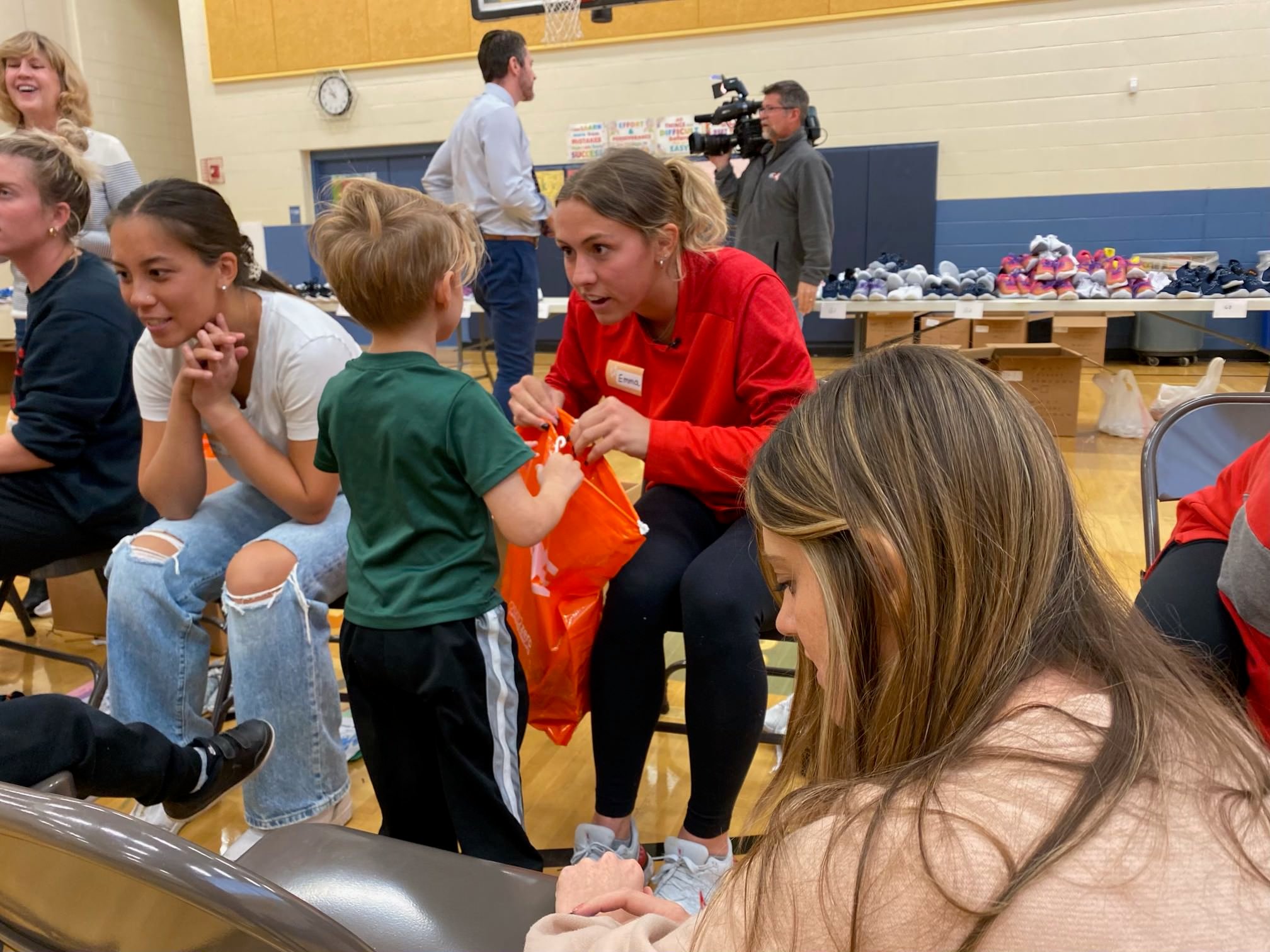 "It's fun to see that money being put into work and getting to come here where I'm interacting with the children and getting to give back," Goldean said.
The organization's mission is to "serve and inspire hope in children by providing shoes as the foundation to a spiritual and healthy life." The senior hopes to do just that through her work with the non-profit.
"I want them to take away that I want to give them hope and instill in them that they can achieve anything no matter what," Goldean said. "Don't let a pair of shoes stop you don't let anything stop you from chasing your dreams."
To help support Goldean's campaign, click here.
This article originally appeared on ABC6OnYourSide on 10/17/2022.