The Capital Avenue Bronze Project has become a beacon of inspiration and creativity in Cheyenne, Wyoming, championing the significance of art in public spaces. By transforming urban areas into open-air galleries, The Bronze Project enables residents and visitors to experience the power of artistic expression in a way that is accessible to all. Recently, Michael and Karmin Pace recognized the opportunity to make a substantial contribution in support of this admirable initiative.
"Cheyenne is the Capital City of the Old West. Its citizens and those of the state are proud of its heritage and its role in the growth and development of the West," explains Mayor Patrick Collins on the project's official website. "The bronzes will be a permanent tribute to 'The Magic City of the Plains,' the state of Wyoming, and the pioneering spirit of its people."
Field of Blue: A Symbol of Unity and Resilience
Among the collection of pieces that can be found along Capital Avenue, is the striking statue of a young boy clutching the triangulated flag of an honored veteran.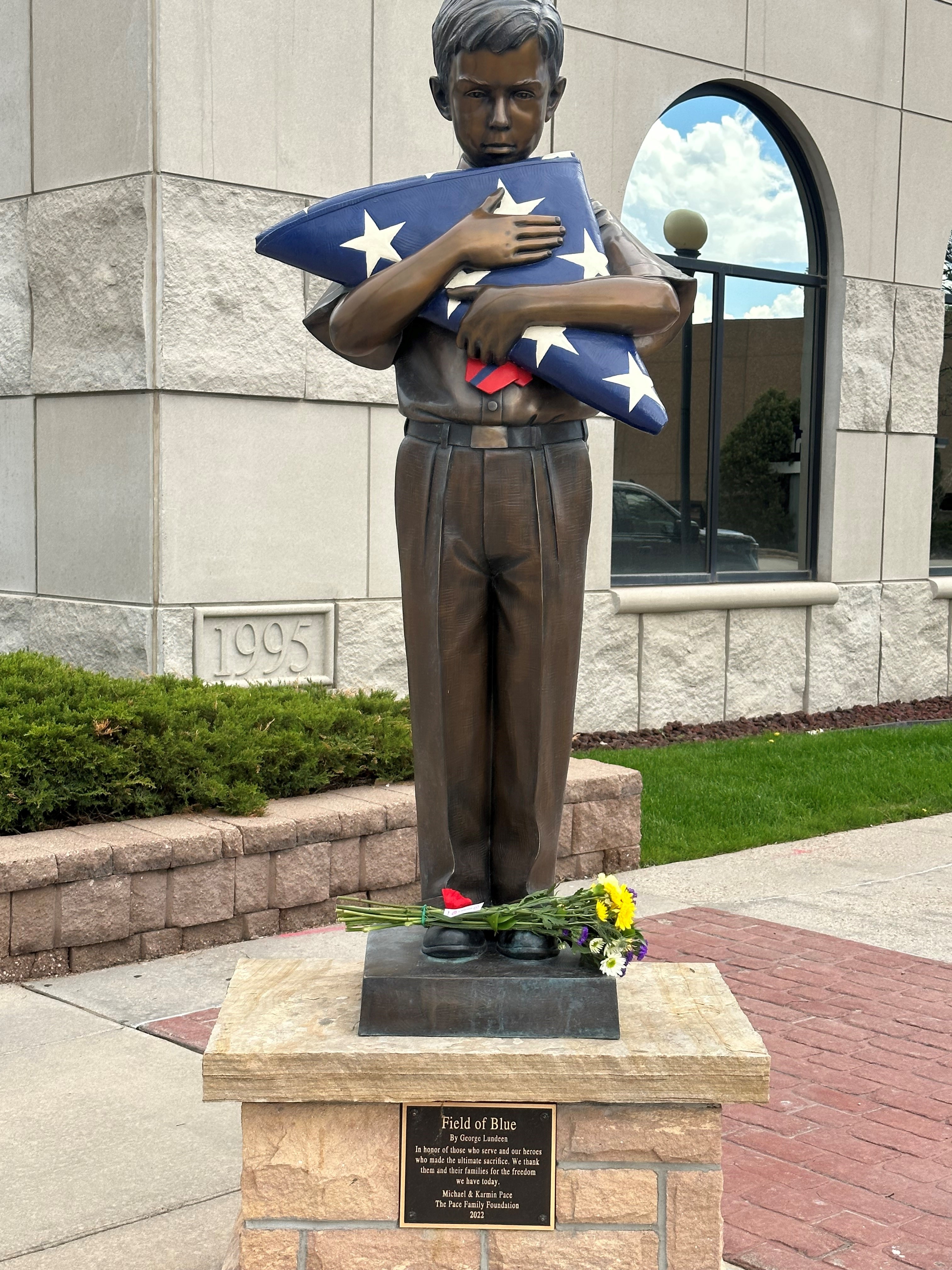 "Field of Blue," sculpted by George Lundeen, is a breathtaking bronze sculpture crafted in honor of those who served, and our heroes who made the ultimate sacrifice. Collaborating closely with The Bronze Project, Michael and Karmin Pace embarked on a journey to create a statue that would inspire the Cheyenne community and honor fallen soldiers. This is just one of many ways the Paces express their heartfelt gratitude to the brave members of the US military and their families.
"This project is of particular significance to us, not only because of our connection to Cheyenne but because it gave us another opportunity to honor our military members, and in particular, those whom we have lost in service to our country," said Karmin Pace. "Our service members are always on our minds, but it has been an incredible experience to create something physical to honor them. This statue is a tangible representation of their sacrifice and our unwavering support."
A decade in the making, The Bronze Project features 51 pieces of bronze artwork, each resonating with the Cheyenne community in a unique way. "Field of Blue" was the fifth statue installed on Carey Avenue and the largest on the street so far. Michael and Karmin Pace are committed to giving back to the Cheyenne community and share the city's belief in the importance of supporting art in public spaces. The Bronze Project has sparked a renewed appreciation for artistic expression within Cheyenne, showcasing art's ability to shape the cultural fabric of a city.
Art as a Catalyst for Change:
The Bronze Project exemplifies the profound influence that art can have on a community. By introducing sculptures and artwork into public spaces, this initiative has revitalized the urban landscape, offering a new lens through which residents and visitors can appreciate their surroundings. The integration of art in public spaces fosters a vibrant cultural atmosphere, stimulating dialogue, and inviting diverse perspectives. It unites people, transcending boundaries and promoting a shared sense of identity.
Looking Towards the Future:
As Cheyenne continues to evolve, art will remain an integral part of its history and cultural narrative. The sculptures and installations inspire conversation, reflection, and engagement, encouraging a stronger sense of community pride. The awe-inspiring "Field of Blue" statue, paying homage to those who have served and sacrificed, has left an indelible mark on the Cheyenne community. Through their generosity, Michael and Karmin ignited a flame of inspiration that will continue to burn brightly, promoting unity, resilience, and a sense of belonging for generations to come.
To learn more about the impact that the contributions of Karmin and Michael Pace have in local communities, visit https://www.paceomatic.com/more-than-a-game.